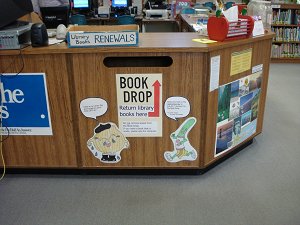 The Library Circulation Desk is the place where Hamilton students and staff return books, check-out books, and renew books.
Students borrow books for a period of one week and may be renewed as needed.
Special due dates are used when school is closed for holidays.
The Book Drop in the Circulation Desk is where all library materials are returned.
Students are responsible for returning library books on time.
If students forget their books on library day,
they can select new books to be saved by following these steps:
2. Fill out a "save slip" from the basket on the circulation desk (grades 2-5).
(I will fill out the slips for grade 1 students.)
3. Stick the slip in the book and give it to Mrs. Rosenberg.
4. Get a "Don't Forget" reminder to put in the homework planner.
Students should come to the Library the following morning to return the overdue book and get the "saved" one
.